Photos of TS Eliot's Memorial at St. Michael's Church, East Coker
Click on a photo to enlarge it
<![if !vml]>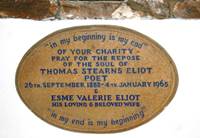 <![endif]>†
At a simple but moving Church Service on 28 April 2013 at St Michaelís Church in East Coker, Valerie Eliot's ashes were laid to rest alongside those of her husband TS Eliot.
The casket containing the poet's ashes had not been seen since 1965 and was a small oblong box with a brass plate on the top, buried under the floor of the church beneath the famous wall plaque.
Family members attended the ordinary Sunday service in which the ceremony took place.
Copyright © East Coker Society 2014. All rights reserved